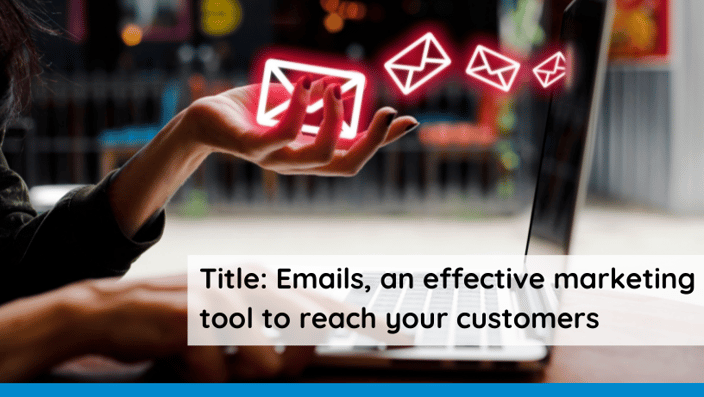 Email marketing is a very effective tool that can often appear outdated or unnecessary to those who are new to it. Yet electronic mail generates $42 for every $1 spent, which represents a return on investment (ROI) of 4,200%, making it one of the best marketing tools available on the market.1
It's a versatile tool that can keep you connected with your clients, which facilitates retention a lot. This year, 64% of SMBs are using email marketing to reach their customers.2 Don't know where to start? We explain how to create a good email strategy and its benefits below!
Mobile Version
It is important to make sure that your email messages appear readable on different web browsers and email providers, as well as on mobile. Unfortunately, 1 in 5 campaigns are not optimized for cell phones and tablets. However, over 70% of people read their email on mobile.3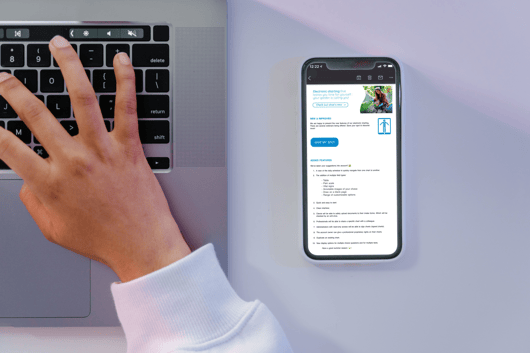 To make sure your messages appear correctly, you can do tests on your cell phone and email address and ask co-workers or friends to check theirs, so you can cover as many options as possible. When you use an online platform to create email messages, they usually offer a view of your message in mobile or desktop format, so you can compare the results. They are also optimized for different email providers.
Average opening rates
The open rate of a business email varies by industry, we often talk about an average of 21.33% open, 0.40% bounce rate (mail that is not received), and 0.26% unsubscribes.
If you stay well below these numbers, you should check your contact list, the subject of your email, the email frequency of and the relevance of the information in the message, in order to improve your statistics.
Email content
The subject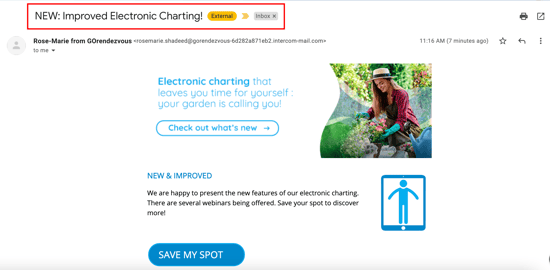 The subject is essential to incite your reader to open the message. Keep the subject short and to the point so that the message is conveyed well.4 You can use words that create emotions such as excitement or urgency to act.
Above the Fold and Its Usefulness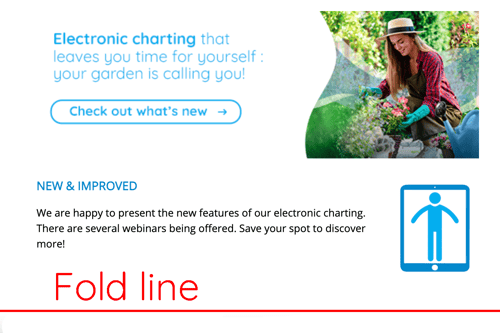 The space above the fold is what appears before scrolling down the page, it is an area that is normally 350 pixels high and 650 pixels wide.5 This is an important part of the email because it helps set the tone of the message and get people to scroll down to see more. For this reason, it is also often used for calls to action (CTA), for example, a button that allows you to make an appointment.
Call to Action
A call to action appears as a button or image that is clicked and takes the reader to a landing page. The call to action you create will depend on the content of your email. To get recipients to click on your button, it needs to be visible and attractive.
You have to decide on its colour and size, make it standout so that it catches the eye and centre it in your header. The shape must also fit the style of your email, it will be either rounded or square, look at the shape of your images or your logo to match everything.

Then, you just have to find what text will appear on the button, the message should be short and make you want to click. Speaking in the first person often connects the reader to the message and entices them to click, for example, "I subscribe" rather than "Please Subscribe." 6 It is also preferable to use an action verb.
The different types of marketing emails
Newsletter
Newsletters are one of the most well-known electronic messages and are often sent out on a weekly or monthly basis. As their name suggests, they convey news and are often separated into blocks or articles that touch multiple topics (blogs, news, new employees, schedule changes, etc.).
Promotions
These are emails used only for promotional offers, or product and service launches. This is a good place to give details about your offers and news. You have to be careful not to use this model too regularly because you want the people who receive them to feel privileged and absolutely want to take advantage of the offer. You can tell them about an exclusive promotion that won't repeat or is for a limited time.
Flash offers
These are emails that offer short-term discounts, Black Friday or post-Christmas sales for example, you can send an email ahead and offer a discount for that day only.
Contents
These are emails that provide information about your industry, such as blogs, webinars, educational content, etc. Compared to the newsletter, a content email will be sent less frequently and bundle more in-depth content.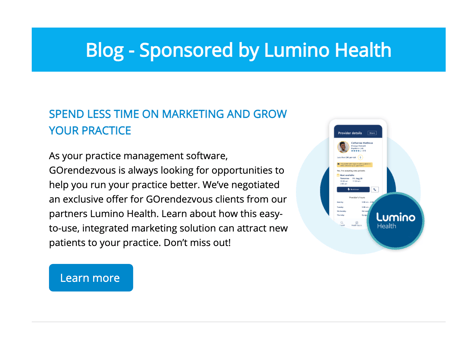 Automatization
These are automated emails that are sent following actions on your website. For example, if the customer makes an appointment online, if they create an account, for their birthday, etc. This helps create more conversions after viewing web content. This sometimes requires a slightly more developed and expensive email platform.
Of course, if you are already using the GOrendezvous platform, your clients will receive a confirmation message for their appointment (which you can customize) and a follow-up email. This will be sent after the meeting to request a rating out of 5 for your page on our website.
Anti-spam Law
Before sending commercial electronic messages (CEM), you must first have the consent of your customers. The anti-spam law protects the public so that they do not receive emails from companies that are not on their lists. It's important to know that: "CEMs encompass all electronic messages that promote participation in a business activity, whether or not there are expectations of profit, including emails, text messages and direct messages from social media sites."
Thus, to send email messages to your customers legally, you need to:
Obtain the recipient's written consent (ask to tick a box expressing their consent on your website or on paper).


Include your contact details in emails sent.


Include a unsubscribe button in the email.


Do not install any software or program on the recipient's computer without their explicit consent.7
If you do not follow the law, you may have penalties, so it is important to follow these steps. Your customers' consent is obtained when they give you their email address, if you get an email address verbally, this agreement remains valid for 2 years. Then, you must ask for explicit consent in writing, so it is to your advantage to do this at the start of the relationship with the client.
Segmentation
When you have your contact list for your emails, you can separate them into categories, this is called segmentation. As mentioned above, you can categorize them as new customers, repeat customers, by their preferred content type, by service obtained, by region, age group, or any other category. Professionals who use segmented email campaigns can see up to a 760% increase in their revenue.8
If you are using GOrendezvous, it is possible to export the list of clients due for a follow-up from your account. You can create two different emails, one for regular customers and one for customers who haven't come for more than three months, for example. This allows you to choose which messages you want to send, if you want to add a discount, etc.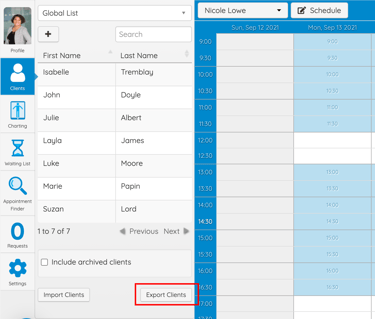 This way, you will be able to personalize the emails sent to your subscribers, which will give you a better chance of holding their interest.
Bulk email marketing tool
Different tools exist to help you send your emails to hundreds or even thousands of recipients. Most have free plans for a number of mailings or subscribers, here is a list of the most popular to help you make an informed choice.
Offers up to 2,000 subscribers and 12,000 mailings per month for free.
The free version gives you access to multiple email templates with movable blocks to easily edit your template. It is an ideal platform for small businesses because it is very user-friendly.
Offers up to 1,000 subscribers and 12,000 monthly mailings for free.
The free version lets you use prebuilt, easily movable blocks to create engaging emails. It also includes photo editing, allows for audience segmentation, personalization, and creation of dynamic content.
Offers up to 2,000 free mailings per month.
The free version contains an editor with movable blocks to easily create your email. You can also use HubSpot's forms and CRM which will give you access to detailed statistics.
Offers up to 300 emails per day for free.
The free version contains an editor with movable blocks to easily create an email, an HTML editor, and a full library of templates. SendInBlue also has automation to send email messages based on actions taken by customers.
Offers up to 1,000 subscribers for free.
The free version allows you to create "landing pages" and forms to expand your list of subscribers. They also have a template library to create your emails.
You have the option of selling digital products and subscriptions without a premium account.9
Offers up to 2,500 subscribers for free.

The free version covers with no limits on features, a number of team members, or a number of lists. It comes with both a drag-and-drop email editor as well as a classic editor for editing custom HTML templates, plus a library of ready-to-use email templates.
Conclusion
With a well-implemented strategy, sending email allows you to attract new customers, improve your sales and retain existing customers, as well as helping the reputation of your business. We hope this article has made you want to learn more about this topic!
---
https://blog.hubspot.com/marketing/email-marketing-stats

https://blog.hubspot.com/marketing/email-marketing-stats

https://www.campaignmonitor.com/blog/email-marketing/7-stats-that-will-make-you-rethink-mobile-email/

https://www.wordstream.com/blog/ws/2014/03/31/email-subject-lines

https://freshmail.com/blog/above-the-fold-in-email-design-p2/

https://stripo.email/fr/blog/email-call-action-best-practices-examples/

https://hellodarwin.com/fr/blogue/lencadrement-legal-marketing-courriel

https://blog.hubspot.com/marketing/email-marketing-stats

https://mailchimp.com/resources/email-marketing-benchmarks/