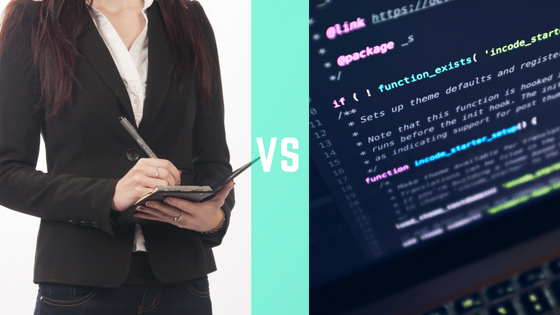 As a successful business owner, beauty professional, or any awesome title you may go by, you have a lot of things on your plate. We know you are an accomplished multitasker, but we also know you rather do the things you love, like spending time with your family and taking care of the people coming in to use your services. So, here is a question you will eventually have to ask yourself: "Do I need to hire an administrative assistant…or do I need a management and online booking platform?" Here are the pros and cons.
The Online Booking vs. Phone
There are two ways to book appointments nowadays. People either call you because they saw your number online or in the yellow pages (yes, it may happen), or they book their appointments directly online thanks to your user-friendly online scheduling platform on your website or even through social media. Both strategies work of course, and they both have their upsides and downsides. Using the phone is a reflex for fewer and fewer people. Some generations (the youngsters over 50 years old) like talking to a human, whereas the really young (under 50 years old) do NOT like using this ancient technology. Fun Fact: Did you know that if clients can't reach you by phone right away, they will likely call someone else!
By scheduling appointments online, clients do all the work and they see all your availabilities, which means you don't have to go back a forth to find an opening that will work for both of you. Your platform is never busy, people can just book online with only a couple of clicks without getting discouraged.
9 to 5 vs. 24/7
We all have different jobs, lives and ultimately schedules. Having an executive or administrative assistant is great because you don't have to deal with appointments, clients or administrative issues. But your amazing agenda manager/wizard has a life too, and will probably go home at a decent hour. So if you don't want to deal with this job and your job simultaneously, you either have to invest and use a call center overseas (money, money, money) or use an awesome online scheduling solution.
Did you know that almost 40% of appointments are schedule outside regular hours of operations? If you want to be available for your clients, you need to give them the opportunity to schedule their appointments 24/7. Don't panic, you won't need to live in your clinic, salon or place of work. You just need to find a good online scheduling platform. It's easy-peasy!
Paperless vs. Pro Paper
We all love our planet and the environment. Lately, everyone has been trying to do their part to give a better future to the next generations. It's cool for the planet and it gives you a great reputation. Going paperless has many benefits. Easily keep track of a client's history, hair colouring preferences and much more, all-in-one place. You won't have to flip through endless pages before finding the answer you are looking for, and your secretary won't get lost in the dreaded room full of files. Everyone agrees, it's time to stop giving little bits of paper with the date and hour of the next appointment, because people are going to lose them or their schedule will change and they will have to call to find a new date or cancel altogether if they can't see your availabilities. Save time, go paperless and save some trees.
Conclusion
Everyone has different needs, sometimes you need to give your clients or patients a friendly face they can talk to when they book their appointments or patiently wait in the waiting room. To be honest, we think the best solution is to have both! An administrative assistant that manages your online scheduling platform, but we know it's not possible for everyone. If you are starting your business, if you have a small business or if you are self-employed, it's always best to invest. Start with an online scheduling platform that will centralize all the information and do most of the work for you. Your time is valuable, so let's make the most out of it.