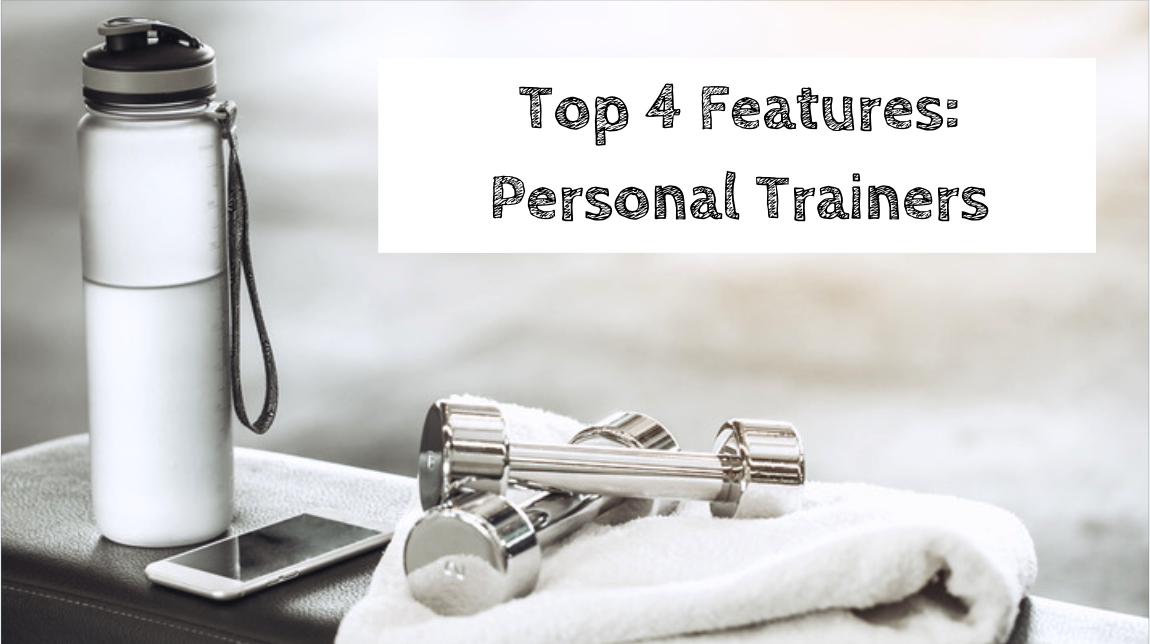 Personal training requires patience and dedication, from both the trainer and the trainee. For it to be effective, a mutual trust needs to be created and nurtured between the two parties. Indeed, a trainee will tend to be more motivated if he feels that his or her personal trainer is truly looking out for them. One way of doing so would be by facilitating your services' access to your clients, by staying on top of technology's game. There are so many online tools out there that can help reduce your heavy workload, and ultimately, simplify your booking process to make your clients feel valued. Less workload also means more time to focus on your career, improve it and stand out in the midst of a highly competitive and innovative industry. Find out the 4 features that you need to implement within your system right now, right here 👇👇👇
1. Management Tools
As a personal trainer, you probably fix individual appointments with your clients, but you might also offer group classes (say, CrossFit classes). Therefore, it is only fitting that you adopt a platform that can help you navigate both types of services. An online scheduling platform allows you to differentiate your services at a glance, and even better, at any day and time. On your way to work and can't wrap your head around what your schedule of the day is? Easy, you can simply pull out your phone, open up your online schedule, take a quick look, and find all the information you need. This seems trivial, but on the long term, daily tasks can become time-consuming without such tools. Why waste time on them when there is available technology out there that can automate these tasks? And the best part, it goes both ways! The platform will also simplify the booking process for your clients. They can see all the services you offer, pick the most appropriate one for their needs, and select a time slot that fits their schedule in just a few seconds.
2. Automatic Reminders by Email and SMS
No-shows are quite frustrating, and even more so, quite frequent in the field of personal training. For new clients that are just starting out in the fitness field, working out can be quite discouraging, and they might subconsciously forget their appointments, just because it suits them better that way. ;) One way of avoiding this phenomenon is by making sure to notify and remind your trainees of their appointments, and ultimately, of their commitment to the training you're offering them. Not only are reminders appreciated, but they can also help ensure that your schedule is never empty. By reminding booked clients of their upcoming appointments, you're also giving them the possibility of rescheduling in advance. This can, in turn, open up availabilities to potential customers, or alleviate your never-ending waiting list. And the beauty of it all, you don't even have to lift a finger to make it happen! The reminders are set to be automatically sent out a number of days before the appointments. It's like magic.
3. Online Payments
Email and SMS reminders sure are a first good step, but we all know people that can easily disregard and dodge their emails and texts (no shame, we've all had our fair share of ghosting 👻). That's when the awesome feature of online payments comes into play! Online payments can reinforce your cancellation policy and encourage your clients to show up to their training. How so, you ask? By requesting a certain amount (or the full amount) of your training fee at the time of your client's online booking. If there's one thing that might discourage your newest clients more than the idea of working out, it's the idea of wasted money. By depositing a certain fee prior to their appointment, it is a lot less likely that your clients won't show up to their training. If you don't want to force your clients to pay in advance, you can simply ask for their credit card number at the time of their booking. That way, you can leave them a window of opportunity to cancel in advance, but can still charge them if they never show up without prior notice.

4. Online Reviews
What other way to build mutual trust than by giving your clients the opportunity to evaluate your services? Allowing your trainees to voice their opinion and thoughts about your training is crucial in order to properly build a working relationship with them. With online reviews, you can send out these evaluations as early as the minute following their appointments. With an online booking platform, an automatic email can be sent out to your clients right after their training, inviting them to rate and review your services. That way, you can discover how your services are perceived by your clients, and how you can improve them. And that's the whole point, right? If not for continuous improvement, not only will your business lose its touch in the face of competitors, but your clients will lose interest too, and you certainly don't want that. The feature of online reviews can help you avoid all that, while providing valuable information. You can even add value to your practice by sharing those positive reviews on your homepage!
Conclusion
There are several features out there that can help simplify your professional life as a Personal Trainer, and ultimately, help enhance your business. By transforming your booking process into a user-friendly online process, you can make your services more accessible to a wider range of clients. Whether it is by facilitating your management tasks, considerably reducing your number of no-shows through features such as email and SMS reminders or online payments, or even by building mutual trust with your clients through online reviews, it seems that an online booking platform offers must-have features that will make any personal trainer's life that much easier, all while standing out in the face of competitors. These features are already out there, they are just impatiently waiting to be used, so you better get to it ;)