On the eve of its 11th anniversary, GOrendezvous is used by more and more professionals in various domains.
Several templates were already available on the platform such as SOAP notes, HSOAPIER concussion assessments, referral notes to another provider, reassessments, etc.
It has become a major challenge to continue to offer templates that meet the wide range of our users' domains.
We are therefore pleased to present the new collective library, powered BY users, FOR users!
Collective Library: A Variety Of Templates Just A Click Away
Aimed at enhancing your charting experience, the new collective library brings together charting templates, intake forms and lexicons, powered by professionals, for professionals!
In the library, you'll find a variety of ready-to-use templates for different domains. Whether you are a massage therapist, a psychologist, a chiropractor, a physiotherapist, an acupuncturist, a nutritionist, an osteopath, a speech therapist, a reflexologist, etc., we've got what you need.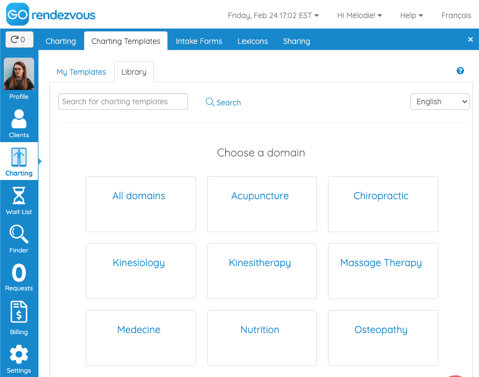 Once you have selected a template, form, or lexicon, you can modify it as you wish.
And, if you don't find what you're looking for… this is the perfect opportunity to share your own templates in the library!
Indeed, the goal is to grow the template library, all together, over the coming weeks, months, and years. The name of the author and the area of practice will be indicated on each template.
Duplicate Your Intake Forms
Psst, it is now possible to duplicate your forms! 😀
Many of you have asked us for this feature, and it's finally here.
Associate a Charting Template With a Lexicon
Another interesting feature added is the link between a form template and a lexicon for more accurate and faster documentation. In addition, the language of the lexicons will be associated with that of the template.
As you know, GOrendezvous always aims to offer you options and flexibility. All this while maintaining the ease of use of the platform and the autonomy to adapt it to your preferences.
With these new charting features, the startup experience is also improved for professionals who want to try electronic charting.
With a library populated by professionals, you save time and energy in managing your client files. We encourage professionals to share their templates to enrich the GOrendezvous library.
If you have any questions, please do not hesitate to contact our customer service department by chat, by email at questions@gorendezvous.com, or by phone at 1-866-506-1010.