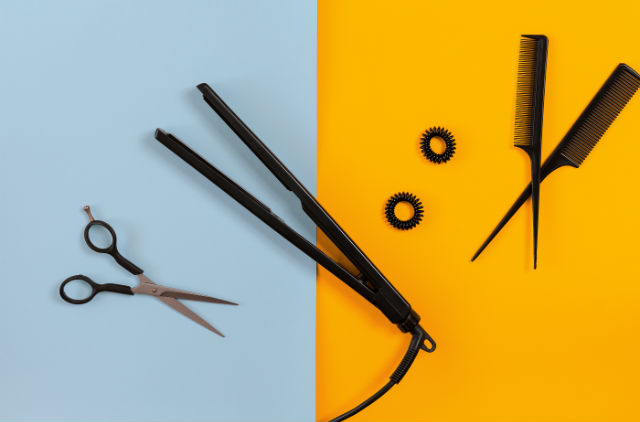 You dove head first into the beauty parlour industry and you're not too sure what you're doing or you have a good hairdressing business but you wish to upgrade to a kick-ass beauty parlour that attracts tons of business? There are so many different variables that define why your business could be doing well or not: your presence on social media and Google, your relationship with your business neighbours, if your clients recommend your services to their friends, etc.
Here are the 6 beauty parlour tips all salon owners should follow
1. Bond and Connect With Your Local Business Community to Raise Your Brand's
Awareness
Buddying up with other businesses in your neighbourhood is a great way of charming their clientele into visiting your beauty parlour. Of course, make sure you are targeting businesses like restaurants, retail stores, bars and gyms, etc. that share the same values as you and that attract the same kind of clientele. You can use social media to initiate the first steps if you're a bit shy. Use Twitter or Instagram to tag a local business and show some love! Remember, creating strong and long-lasting relationships takes time. Make sure you're ready to put some effort in creating special bonds because with a great relationship, both of you can gain from this. Creating an event like a barber shop/cocktail competition (but please, start with the barber competition before the cocktails so no one gets a funky regrettable haircut!) is an excellent way of bringing a mix of your clientele and theirs together. You can also show them how awesome your salon is by treating them to a free service and pull out all the stops to impress them.
2. Get More Traffic on Your Website by Becoming Google's Bestie
Google is a great and powerful tool that, if used properly, can skyrocket your business into the #1 destination for people looking for a beauty parlour. Go on Google (not right right now, but after you finish reading this article) and find out where your salon currently ranks in the search engine. Fewer than 10% of people go on the second search page of Google. If you want new clients, you need to appear in the first searches. To do this, you need to spend a lot of time and effort to make sure your website's content and design is #flawless. You have a blog? Great! Let's face it, even if we don't agree with it, people will judge just about anything based on their appearance! Spend money and energy on creating an intuitive and gorgeous website that you are as proud to show as your salon. Make sure that your social media networks can easily be accessed on your website, including your Instagram page. Here are a few website beauty parlour tips: Make it mobile friendly, include the prices of your services, start a blog, and include an offer page with great incentives so potential clients try your salon. Explore the web and find out more ways to optimize your salon's presence on the web.
3. Online Bookings Will Make Your Life Easier And Free Up Your Time
You don't always have the opportunity of hiring a full-time receptionist, which can make it hard to deal with the various appointments calls you get every day. You might miss out on tons of potential appointments if your phone stays unanswered. A great way of keeping up with all the demands is by having online appointments available for your clients. If you don't have a website yet, you can even use Facebook as a booking tool. This is a great beauty parlour tip that you can easily integrate within your business.
4. Recommendations Are Key to Effectively Grow Your Business
Remember that whole 'word-of-mouth' thing? Well, thankfully for you, it's not dead. It's still one of the most important ways of getting new clients to your beauty parlour in 2018! Answer these questions (out loud or in your head, we don't judge): Do you trust your friends? If they tell you to try this new super cool bar, do you snub them or do you run there, already pumped? If you answered yes to these questions, you now understand why old school word-of-mouth recommendations are important. It is proven that 85% of people trust online reviews as much as recommendations made by their friends and family members. A Forbes article shows that the #1 reason why people purchase things is because of a personal recommendation. You cannot ignore the importance of a good reference. Being extra nice to people that can influence the future of your business is a small price to pay. Be generous and offer incentives to your regular clients so they bring their friends to your beauty parlour. For example, 30% off their first haircut, a free hand massage or even a glass of bubbly with their first haircut, are all great ways to make their first experience extra memorable.
5. Become a Thought Leader in Your Industry And Grow Into a Social Media MVP
With a strong social media presence, you can acquire a cult-like following that will attract people not only from your neighbourhood, but also from the four corners of the world...OK maybe not the world, but at least the four corners of your city! Show off the excellent ratings and reviews you get on social media. People feel special when you post their opinion online. If you tag them and write a comment like "Thanks @JohnSmith for your great feedback! We can't wait to see you again", it shows off your great work but it also lets your clients know you notice and appreciate their feedback.
6. Hire Passionate People That Want Your Beauty Parlour to Grow
Hire people that love what they do and that have the same values as you. Don't hire your bestie if he or she is not a masterful and sensational hairdresser. If you are lucky enough to have a receptionist or person who welcomes clients in your beauty parlour, get someone who radiates happiness and is very welcoming. Nobody likes to feel like they are not welcomed somewhere. Nowadays, clients want to have a genuine relationship with the people they interact with. Snottiness is not a sign of success anymore (Pretty Woman anyone?). Of course, your staff and you always need to stay on your A game and always be very professional but friendliness and openness with your clientele creates a bond that is important for the success of your business.
After reading these 6 brilliant but easy to execute beauty parlour tips, we know you'll become the coolest, most badass place where to get a haircut in all your city. Connecting with other businesses that share the same values as you, working on attaining more traffic on your website, getting an app that helps you with time management, hiring passionate people that understand your vision, and spending time developing your social media presence will help lead you in the right direction. It can seem a bit overwhelming to read all this so we suggest you start by streamlining your processes such as appointment management and reminders so you can spend more time developing your business. We can already hear a swarm of footsteps coming your way!