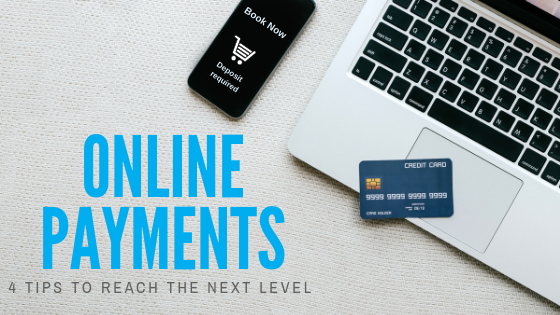 For every business, the main goal is to make a profit. Of course, providing your clients with the service they deserve is crucial, but, without steady cash flow, you won't be able to do that for very long. Nonetheless, many entrepreneurs are unsure about how to manage customer transactions, and their business may suffer as a result. If you feel like you're wasting too much time and effort playing Chief Financial Officer, perhaps there's a solution you haven't considered: online payments. This technology-powered solution is offered by numerous businesses around the world and has become so popular that about 46% of customers have used their smartphone to pay a bill within the last month. When it comes to handling a client's transaction, online payment should be your weapon of choice; here are 4 reasons why!
#1: Withdrawal Anywhere and Anytime
When you interact with clients on a regular basis, no-shows are an unavoidable reality, no matter how frustrating it may be and how hard you may try to avoid it. However, thanks to technology, there are many ways to reduce no-shows, such as SMS and email reminders. The reason being, these reminders have already drastically reduced the number of no-shows for the companies who are using them. Still, if you truly want to put your mind at ease, online payments are another way you can ensure that your time won't translate into lost profits.
With online payments, you can ask customers for either a deposit or the full amount, right at the time of booking. Therefore, in order to make an appointment, customers will need to put some of their hard-earned money on the line. This will help you enforce your cancellation policy: your clients will think twice before missing an appointment, and you'll get your dues despite those infuriating no-shows. This method can calm your clients' concerns as well; by paying in advance, they'll be sure to receive the requested services. Likewise, if they're looking to participate in one of your classes, their coveted spot will be secured! With online payments, everyone gets their money's worth.
#2: Centralizing Your Processes
If customers can already book their appointments (and basically do everything else) online, why should they have to pay in person? Let your clients save time by giving them a slick, modern way of paying.
Settling payments on the same platform where your clients book their appointments will be much easier for your clients and yourself. They'll be able to complete every step of the appointment process in one go. In addition, your customers will love the fact that they can pay their bills at any hour of the day, and within the comfort of their home or anywhere. This convenient, all-in-one option will surely win over both new and existing clients, especially millennials. Recent research shows that 50% of them want mobile payments to speed up transactions. On your end, centralizing the appointment process will allow your business to expand its web presence and make a complete and effortless digital shift. Everybody wins!
(P.S: If you aren't already using an online booking platform, what are you waiting for?😉)

#3: Timely Transactions
It doesn't take much time to help one client through the payment process, but at the end of the day, repeating this step over and over again can add up to a substantial amount of your time. Enter online payments! With the click of a button, any amount due can easily be paid. This will save you a significant amount of time, which will make a world of difference in your productivity. Gone are the days of working too hard for too little!
On top of that, online payments are usually cleared within a business day or two, which ensures that you'll get paid in no time. And, quickly acquiring your payment will enable you to plan your budget with a clear conscience, instead of having nightmares about bounced checks and late payments. Thanks to online payments, you'll finally have time to breathe again.
#4: Improved Security and Trust
Spending money online can be a frightening thought for some customers (in the beginning). Despite this, you'd be pleasantly surprised to learn that allowing online payments can actually help you gain their trust.
Once your clients begin sending online payments, they'll recognize the safety of this process. Carrying out purchases thanks to a secure platform like Stripe, for example, will give your customers an additional layer of safety. That's because all transactions on that type of platform are protected from a potential data breach. With a secure system in place, you'll ensure your clients with a risk-free buying experience. In return, they'll acknowledge your company as trustworthy and, consequently, won't hesitate to do online business with you in the future. Thanks to online payments, you could unlock the missing piece to your customer relations.
Conclusion
Every business wants a secret weapon of their own, a kind of superpower that will take them to the next level. And, guess what: you may have just found yours with online payments! With this modern solution by your side, you can finally say goodbye to no-shows. It will also allow customers to complete every step of the appointment process in one convenient place. And if this wasn't enough already, it will afford you the luxury of time and help you gain your clients' trust faster than ever before. Numbers don't lie: more than a 1/3 of online shoppers prefer electronic payment. With such a quick and simple procedure for everyone involved; what's not to love?