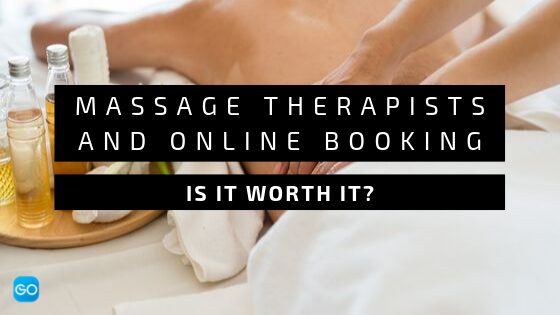 As a massage therapist, it's a known fact, your job must be very relaxing. No, it's not! People tend to forget that massage therapists are the ones giving the massages, not laying flat on a table. Being a massage therapist can get pretty tough for the body in the long run.
Another kind of stress that often occurs in the massage therapy business is to manage all your appointments and keeping track of your clients and no-shows and managing your practice in general. Find out how a massage online scheduling platform can improve your practice and help you in many ways you didn't know.
Is Online Booking Really Necessary for Massage Therapists?
The answer is simple: Yes! Using a user-friendly, professional and efficient online scheduling platform will reduce your stress and give you back your Zen attitude. Adding this kind of platform to help you run your practice can do so much for you: it can manage your agenda, book online appointments, make online payments, send reminders by email and SMS, send surveys, and so much more.
Since you're an entrepreneur, managing your employees and retaining your clients has a direct impact on your personal income and lifestyle. So, avoiding no-shows and last-minute cancellations will make a huge difference when it comes to your profits and for the overall survival of your business.
Let's talk about why you should take the digital leap!
1. Book Online in a Click

With an online booking solution, it's like having an amazing assistant that works 24/7. No matter the day or time of the week, your clients can book an appointment with you at anytime and from their phone, office, at home, or wherever. Say goodbye to the endless phone calls to find an appointment, cancel or reschedule. And if you are on social media (you have to be!) and you have over 2000 followers, your clients can even book online through Facebook!
We know you like talking to your clients, but the back and forth can get pretty exasperating and you are wasting a lot of minutes (which turns into hours). With an online scheduling platform, you can forget about busy administrative tasks because the platform will do them for you, and automatically. If you have less tech-savvy clients, you can still use your phone, but I'm sure they'll make the switch in no time. A good argument is the smart waiting list, it replaces your cancellations and fills up your agenda automatically. You don't have to run after your clients if a slot opens up, the platform will send them an email notification. Not too shabby eh!?
2. Get More Clients Without Lifting a Finger

Through your future platform, you'll be able to share information (pricing, list of services, hours of operation, pictures, etc.) in a simpler way and to a broader audience. Nowadays, people want and expect transparency from their service providers, and to do so, there is nothing better than online reviews. In addition, ratings and reviews on your platform help you promote your business! Did you know that before trusting a new business, 68% of consumers read at least 4 reviews. Positive reviews are key when it comes to bringing in new clients.
PRO TIP: If you choose the right platform for you and your practice, your Google ranking will also go up, so people will find you faster. But make sure your platform offers this service.
3. Save Money Effortlessly

As mentioned, a booking platform is like your personal virtual assistant who is available 24/7, it books your appointment and manages your schedule at all times. You no longer need to hire someone to sit at the front desk, which can help you reduce your expenses, especially if you have just opened your practice and are trying to save money.
If you have a receptionist (more power to you), he can focus on the relationship aspect of his job. For example, instead of spending all of his time calling customers and leaving voicemails on their answering machines, he can talk to customers who are right here, look to increase your online presence, and most importantly, build customer loyalty!
4. Centralize All Information in One Place

Have you ever lost a receipt, a client file or thrown away the phone number of a customer? This would not happen with a good platform. For example, with GOrendezvous, you have access to the innovative GOemr product, electronic medical records, that allow you to take notes in just a few seconds. Send your health checks before appointments, use the quick entry feature by clicking on words, customizable lexicons, annotated images and save 15 minutes per customer!
Another benefit you may not have thought of is that it will save you a lot of space in your office. No need for furniture that eat up half of the space, or stack of papers that fly away as soon as you open a window and that make you waste so much time when looking for information. With a good platform, all the information is centralized, and above all, secure.
Conclusion
All in all, we all want to simplify our lives and organize our work properly to avoid any bumps on the road. With most online scheduling software, you don't need to have a degree in IT or even be tech savvy. Thanks to your new user-friendly solution, you will have more clients, but you'll still be able to enjoy a massage of your own to congratulate yourself because you have made the right decision for the future of your business.