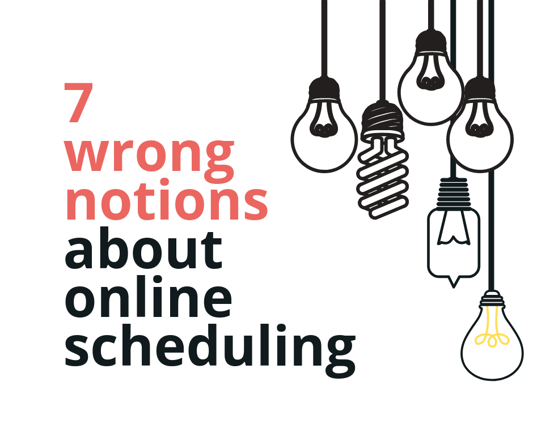 Once you try, you can never go back! Online booking has revolutionized the life of entrepreneurs and clients alike all over the world. Nowadays, people want to buy, book, order and download with the click of a button and instantly, whether it's 10AM or 10PM. Did you know that more than 39% of bookings are now made after business hours? And this number is changing and rising every year. But change is scary and rumors about online scheduling are still roaming about. So let's talk about the 7 wrong notions when it comes to online scheduling and put your mind at ease.
Wrong Notion #1: I will loose control of me agenda.
Answer: NO.
Having your agenda displayed online for all your current and potential clients to see will give you even more control than you already have today. You get to choose your availabilities and the services you want to provide. If you don't want to work on weekends, then your clients will not be able to book you on weekends. See? You only gain control with online scheduling. Your agenda will fill up easily and automatically, you won't even have to lift a finger and you'll be able to focus on your real work and forget about spending endless hours on the phone trying to find a time slot that works for you and your clients. Simple, effective and always in control.
Wrong Notion #2: Online booking is too long and too complicated.
Answer: NO.
Sometimes, it's easy to waste countless hours online and some software are so complex that we need a doctorate to understand them. But, you can stop worrying right now, as it does not apply to online booking. Most online scheduling software is developed to ease your pain and make everyone's life easier. In only a few clicks, your clients can book an appointment for the service they require and with the professional of their choice.

PRO TIP: If they don't find a time slot that suits them, they can easily add themselves to your waiting list, and if you have an opening, they will be contacted automatically, which will make them very happy and fill your calendar.
Wrong Notion #3: My calendar will have holes.
Answer: NO.
And it's just the opposite! Depending on the scheduling software or platform you decide to use, they are a few features that will help you avoid to have holes in your agenda. A good feature prevents holes by regrouping appointments and offers availabilities next to existing appointments to optimize the agenda, we call that clustered booking. You can also offer enough appointments to answer the needs of your clients without displaying all your time slots. But why would you do that? Because showing fewer availabilities (just a little bit) will actually push your clients to book on the spot since it will make them think that you are in high demand and quite popular.

PRO TIP: Do you want to optimize your schedule as much as possible? Good! Then opt to see more than one client at a time. With some scheduling platforms, you can offer overlapping appointments, so if your first client is waiting under the dryer or with needles in the face, you can take care of somebody else in between.
Wrong Notion #4: I'll have to spend money on new computers.
Answer: NO.
Nowadays, technology often needs to adapt to the material we already own, and that's why a lot of online scheduling platforms are online (the technical term is SaaS). What exactly does it mean for you? It's easy, it just means that you won't have to buy new computers or any other material, since you'll be able to access your new platform directly online from your computer. You won't even have to download any software. It's simple, you won't need to invest on hardware and you won't need training since it's quite user-friendly!
Wrong Notion #5: I'm going to lose money.
Answer: NO.
No, at least not with GOrendezvous! Once you are using the management and online booking services, you are the one in charge of your schedule and platform, and GOrendezvous will never charge you a fee for each appointment. You decide the price of the services you are offering and you won't have to adjust them just because you are online. Being online can only help you! In short, you are just offering your current and potential clients another and more modern way to reach you. Your company doesn't have to change but you are getting more exposure and clients will now be able to reach you 24/7.
Wrong Notion #6: The information of my clients will not be safe.
Answer: NO.
Privacy and security are two major components you need to take into account when you are choosing an online scheduling platform, if not for you, at least for your clients. Most companies in the information technology industry (the people who provide you with your scheduling platform) work hard to protect your information. Following the C-28 Canadian law and by being RGPD compliant (European law) and of good faith, GOrendezvous provides you with a top of the line platform you can count on. Your information will always be secure and in good hands!

PRO TIP AND WARNING: Careful with completely free apps and booking platforms, before signing up, take a closer look at their conditions of use and policies, because they may sell your information and your client's information to third parties.
Wrong Notion #7: Last-minute cancellations will be easier.
Answer: NO.
This is a current fear and a reality in the service industry, clients can cancel or simply don't show up to their appointments. This creates a loss of revenue that could have been easily prevented with an online booking solution. One, some platforms will let you decide how your clients can cancel, either online but only 24h in advance (or the number of days of your choice) or only by phone. Two, you can also ask for a credit card number at the time of booking and charge a certain amount of money if your clients don't show up without prior notice. This will tremendously help you enforce your cancellation policy (and if you don't have one yet, you should think about it now!). And for clients who are "Cancellation Specialists", you can even ask them for a deposit at the time of booking, it will give them another incentive, motivate them and they will be less likely to forget.
Conclusion
There you have it! You are a pro! When done right, online scheduling can be a powerful tool for your business or clinic. Not only are you in total control, but you will get more clients, more appointments, and in the end, more revenue. And isn't it what we are aiming to achieve?