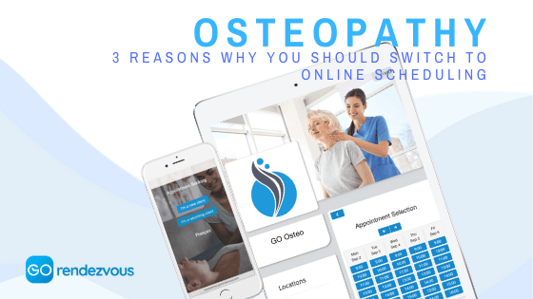 Nowadays, we are using less and less paper in order to save money and preserve the environment. But writing, drawing and taking notes on a white sheet of paper is almost therapeutic for a lot of people. But, despite the old habits and the fear of change, it is increasingly important to integrate technology to run a practice and manage your appointments.
1- It's an excellent way to secure and protect your information (and the information about your clients too);
2- It will centralize your information and all your work at the same place;
3- It's one of the best ways to resist a growing and even more aggressive competition.
To learn more about the top 3 advantages of an online scheduling platform for osteopaths, read this article.
1. Limit the Risks and Secure Your Information

With a paper agenda, all the information of your practice and your clients depend on the paper support you are using, so your whole practice as an osteopath and/or self-employed, can very easily be at risk.
Risk #1: Paper is Fragile.
A spilled cup of coffee, a forgotten agenda, and illegible writing are just a few examples that can put your practice at risk. You don't know when and which customers are supposed to come in today, the next day, next month or even year-round. With an online calendar, you can store all your information in your cloud without the risk of losing it. An online scheduling platform allows you to store thousands of names, numbers, emails, notes, and everything needed to run your business smoothly. In addition, you have some peace of mind because you know you can't lose your agenda.
Risk #2: A Limited or Poor Security.
A completely secure paper agenda does not exist! If you leave your agenda unattended (it happens to everyone), anyone can access and flip through it. Your professional and private life is in danger, and your customers as well. Most generations, old and new, are very close to their personal data and have a growing tendency to do business with companies or practices who secure their information. With an online scheduling platform, a good password and restricted access rights secure and protect all your information and answer the needs of your clients.
2. Centralize Your Information

Thanks to an online scheduling platform, you will be able to centralize all your work and information about your practice and your clients. With a good platform, you will also manage two different aspects at the same place:
A Management Solution to Make Your Life Easier
From the same platform, you will be able to manage your practice and have access to the following information: contact information for your clients, a view of all your past and upcoming appointments/classes, the schedule of your staff, to name a few. In addition, you will manage electronic receipts and bills, different locations, payments thanks to a virtual point of sale and so much more!
With an online scheduling platform, such as GOrendezvous for example, your clients will book appointments with you from anywhere and at anytime, without having to call you. You can also manage your follow-ups and automatic reminders by email and SMS without having to lift a finger.
3. Opt for Automatic and Immediate Management

In your practice, you are not only doing the tasks and duties of your job but you are also carrying out all the administrative responsibilities related to your practice. A lot of people stack a large collection of Post-its on their paper agenda, because there is simply no space to spare. Having to and wanting to manage everything, it's easy to forget to do a few important things now and again, because you simply have too many things on your plate. Why not let technology handle some of these tasks? An online scheduling platform allows you to centralize your information, save time and a lot of energy. Repetitive tasks are automated, reminders are sent automatically, holes in your calendar are filled thanks to a smart waiting list, and you will avoid spending hours on the phone with customers who want to move their appointments, while flipping through the pages of your calendar to try to find availabilities. Your amazing app will do everything automatically, so you can spend more time with your customers.
Furthermore, your clients will love receiving reminders, get appointments moved up and get insurance receipts by email, etc. All of this will help you stand out and stay ahead of the competition.
Conclusion
The era of technology brings a lot of benefits, but the trick is to learn how to use them well to ease our personal and professional lives. Nevertheless, we all have our habits and preferences, change takes time and we must take the time to prepare. Nevertheless, technology is everywhere and more than 5 billion people use a phone, tablet or computer, so why not adapt to the needs of your customers? But if you want to have a paper agenda, it's still possible. With an online scheduling platform, you can print your schedule for the day, the week or even the month! Overall, an online booking platform will allow you to have the best of both worlds: efficiency, professionalism and security.